Death Race was a controversial arcade game, released by Exidy in 1976. While not the first violent video game to appear, it was the first video game to inspire a great deal of protest and controversy in the United States.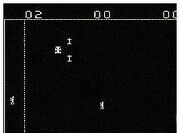 In spite of Exidy president Pete Kaufman's denial that the intent of the game was to promote violence, Death Race touched off a media onslaught of controversy. The National Safety Council called it sick and morbid. The CBS news program 60 Minutes did a show on the psychological impact of video games. It was also covered on NBC's Weekend news show, in the National Enquirer and Midnight magazine. The controversy increased the game's sales, causing another product run, but the game inspired so many protests—including the first-ever organized protests over a video game, led by Ronnie Lamm—that in the end only about 500 units were made. There were even stories about the stand-up consoles being dragged into parking lots and burned by protesters.
The controversy is also credited with fueling the fledgling arcade industry as a whole. The market had shown signs of stagnation, but in the end 53 new titles from 15 different companies appeared on the market in 1976. There had been 57 titles released in the prior two years combined.
External Links
Edit